Wisconsin Lutheran High School
Class of 1968

IT'S TIME TO REGISTER FOR THE REUNION
After you have registered and logged in to this website, click on the link (in the panel on the left) for the 50th Reunion Registration and complete the form. We are looking forward to seeing ALL of our classmates there.
Many classmates have not signed in on this site yet. See the list in the panel on the left. Please encourage those classmates that you are still in contact with to register on this website even if they cannot attend the reunion. This is how we can keep in contact with them and classmates can communicate with one another. Thanks for your help.
Your 50th Class Reunion Committee
Overview of the Event
This will be a two day event. Friday afternoon/evening, 9/14/2018 will be at The Landing at Hoyt Park for a casual get-together for those who wish to participate. There will be no cost to attend, but food and beverages (soda, beer and wine) will be available for purchase on site. The backup location in case of inclement weather will be in the lobby of the Crowne Plaza Hotel in Wauwatosa.
The Crowne Plaza is also the location where a book of rooms has been reserved for us. When making reservations be sure to tell then you are with the WLHS Reunion Group to get the special room rate. Call them at 414-475-9500. If registering online use the group code WVR. Deadline to reserve rooms at the Crown Plaza is August 15.
The reunion itself will be held on 9/15/2018 in the new Atrium in the high school, located just inside the front doors. See photo. Tours of the school will be available.
.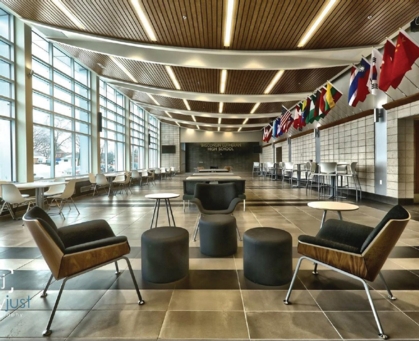 Food stations and a cash bar will be set up and the room will be designed for casual conversations with old friends and groups of friends. The dress will be "business casual" (khakis not jeans).
The cost to attend is $50.00 per person. To save on additional fees, payment will be accepted by check or money order.
Friday Event: The Landing at Hoyt Park, 5:00 pm, food and beverages available for sale on site. Alternate location in case of bad weather is the bar in the lobby at the Crowne Plaza Hotel in Wauwatosa, Hwy 100 at Watertown Plank Road.
The Crowne Plaza will provide complimentary shuttle service to both events for their guests until 10:00 p.m. Make arrangements at the front desk when you check in.
Saturday Event: WLHS Atrium (located just inside the main entrance of the school). Enter through the front door on the main level or the visitors entrance off the parking lot (see below).
4:00 Doors Open For School Tour
4:15 Tour
5:00 Registration/Cash Bar Opens in Atrium
5:15 Appetizers
6:30 Salads and Main Course
7:00 Dessert and Brief Program
PLEASE NOTE! We need your contact information for further communications. SO, WHETHER OR NOT YOU ARE ABLE TO ATTEND THE REUNION IT IS VERY IMPORTANT THAT YOU "SIGN IN" OR "JOIN" THIS WEBSITE (NEAR THE TOP RIGHT CORNER OF THIS PAGE). Click on the "First Time Visitors" link on the left side of this page for instructions.

UA-102444426-1